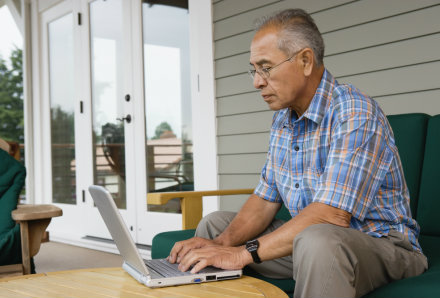 Online Banking & Bill Pay
The good news is, along with finding a date, getting directions, and shopping, you can do your banking online. Manage accounts from your computer and rest assured our encrypted software protects your important financial information.
Our online banking takes advantage of some features that may require you to update your browser. Google Chrome TM 27-current version, Microsoft Internet Explorer ® 10.X and 11.X, Mozilla Firefox ® 24-current version, and Safari on Mac OS X 10.8 will fully support the new online banking. You can visit the website for your browser (microsoft.com, google.com, mozilla.com, etc.) to download the latest version.
Details

Log on to view balances, review transactions, make payments, and more. Use Bill Pay to pay bills online, or set up recurring payments and alerts at your convenience.

Manage accounts from your own computer
View account balances
Transfer funds between accounts
Make loan payments
Use Bill Pay to save money and save time
Set up recurring payments
Set up alerts to avoid making late payments
Encrypted software to protect your financial information

June 2019 Online Banking Update

First Time User?

Welcome to Harleysville Bank Online Banking! If you are using this system for the first time, please read the information below to log into your Online Banking account.

Click the Login button.
Enter your User ID (leave the Password field blank initially)
Check the "I am a First Time User" box and click on the Login button
You will then be presented with a choice of delivery options for you to receive your Secure Access Code. These options may include delivery by text message or phone call. Enter the appropriate code in the box.
You will then be prompted to create a new password, read and accept the Online Banking User Agreement, and update your online user profile information.
In order to register your computer for future use, you will need to log out and log back in with your new password. You will be asked for another Secure Access Code in order for the system to register your computer.

If you have any problems, please call our Deposit Services team at 215-256-9608.

Online Banking Security

Protecting your information is something we take very seriously at Harleysville Bank. Our online banking system has several security measures built into it that are in place to make sure you are the only one who has access to your information. There are also many things you can do to help protect your information and make your online banking use as secure as possible.

Some things you can do are best practice measures that help keep your information safe regardless of whether you are using online banking or not, like:

Keeping your passwords safe and not sharing them with anyone
Making sure you have up to date anti-virus and firewall software on your computer
Not using public internet access points for online banking (like libraries or restaurants)

Security measures that you can take advantage of within online banking include:

Setting up a Phishing Protection Phrase so you know you are connected to our secure site every time (click 'Security' under Preferences)
Setting up security and transaction alerts so you know when something happens with your accounts (click 'Alerts' under Preferences - please note that not all alerts are real-time and receiving text message alerts could result in charges from your wireless carrier)
Requiring the use of a secure access code each time you log in. You don't have to register your computer with the online banking system if you don't want to. You can have the system send you a new secure access code by email, text, or phone call each time you login.

If you have questions about any of these security measures or would like more information about other things you could do to reduce the risk of using online banking please contact us at 215-256-8828.

FAQ

Q. What is online banking?

A. Harleysville Bank's online banking system allows its customers to do their banking from anywhere the internet is available. Customers can view account balances, inquire on transaction history, transfer funds between accounts and many other things all in a safe, secure, real-time environment.

Q. Does Harleysville Bank charge to use the Online banking system or Bill Payment?

A. No. Online banking and Bill Payment are free to all Harleysville Bank customers.

Q. What equipment and software do I need to access the Online Banking product?

A. You will need an Internet connection, and Browser software which supports Secure Sockets Layer (SSL) encryption. Most browsers are compatible with our Online Banking product.

Q. What is a browser and what does it do?

A. A browser enables you to visit web sites and view web pages using your computer. It allows you to click on certain links (words or pictures) that will cause your computer to communicate with different servers all over the world. Your browser turns the programming instructions on a website into meaningful words and graphics for you to view.

Q. What makes one browser more secure than another?

A. Not all browsers use the same encryption technology and therefore each browser's security is handled differently. The newest version of Internet Explorer with 128-bit encryption is the best browser to use with the online banking system.

Q. What is the difference between 128 bit and 40 or 56 bit encryption?

A. The difference has to do with encryption capability:

Standard encryption (40-bit or 56-bit) means that there are 240 or 256 possible keys that could be used to unlock the encryption of your Online banking session but only one will work each time you log-in. That means that there are literally billions of possible combinations that could be tried to decrypt your information but only one will work for every Online banking session you have.
High encryption (128-bit) means that there are 2,128 possible keys that could be used to unlock the encryption of your Online banking session but only one will work each time you log-in. Therefore there are exponentially more key possibilities, which makes the 128-bit encryption the stronger method.

Q. I can view other areas of the website but I can't get into Online Banking. What's wrong?

A. If you are able to view other areas of our web site, but are unable to access Online Banking , it may indicate that you are having a problem accessing secured sites in general . Both your browser and Internet Service Provider must support secured sites. Refer to the requirements for using Online Banking. Another reason that you might not be able to access Online Banking is that your cookies may not be enabled. In order to enter the secure encrypted site your browser must accept the cookies.

Q. How do I sign up for Online banking?

A. You can sign up for Online banking when you open a new account. If you are already a customer, you can click on Enroll Online on our website and fill out the online application, or come into any of our branches for an application.

Q. Will I be able to access my accounts as soon as I sign up?

A. No. For security reasons, you will need a username and password in order to access your accounts through the Online banking system. You will be notified via email that your Online Banking account is available within several business days after you enroll. You will select your password during the first-time login process.

Q. Can I choose my own password?

A. Yes. The first time you log-in you will need to enter a Secure Access Code. Then you will be asked to enter a password of your choice. Please do not use your birthday, social security number, telephone number, or other easily guessed phrase for your password. It is recommended that you change your password at regular intervals. Harleysville Bank cannot be responsible for the confidentiality of your password once you have received it. For security purposes, we will require a password change annually.

Q. Is my password case-sensitive?

A. Yes. Passwords on the Online banking system are case-sensitive.

Q. What if I forget my password?

A. If you forget your password please contact Harleysville Bank. We will temporarily set a new password. We will again require you to change it the first time you log-in with the new password. You may also click on the forgot password link on the login page of Online Banking.

Q. How secure is Online banking with Harleysville Bank?

A. Harleysville Bank's Online banking system uses a 128-bit Secure Socket Layer (SSL) encryption system. SSL encryption ensures that electronic messages sent between you and Harleysville Bank cannot be read by anyone else even if the message is intercepted. It is essential that customers use a browser capable of 128-bit encryption when logging on to the Online banking system. The Secure Socket Layer encryption system performs three key functions. First, it authenticates the server to which you are connected. Second, it creates a secure transmission channel between you and the Online banking server in which all packets of information are encrypted. Lastly, it creates an encrypted checksum to ensure data integrity. The checksum provides a count of the number of bytes in a packet so if a packet is not received in its entirety, it is rejected and a new packet is sent.

Q. How can I tell if my Online banking session with Harleysville Bank is encrypted?

A. Most browsers will show an icon such as a solid key or a closed lock to signify an encrypted session. If the key is broken or the lock is open then the transmission is not encrypted.

Q. What steps are being taken by Harleysville Bank to ensure the privacy and security of my account information?

A. Harleysville Bank uses Multi-Factor Authentication, an enhanced authentication process that is integrated into the Online Banking service we offer to our customers. Upon logging into the system for the first time, you will be required to provide a Secure Access Code, which will be given to you through email, text message or phone call. After entering the code, you will be required to change your password at this time. No one should know your password but you. You also have the option of registering your computer with Online Banking through the use of a secure cookie. You should never opt to register any public-use computers, only those you privately own. Additionally, the Online banking system uses the latest technology in securing the Online banking transmissions. It is necessary for all of our customers who want to take advantage of Online banking to use a browser capable of 128-bit SSL encryption.

Your password will never be displayed on screen.

The Online banking system has built in timers that will terminate the session if no one is actively using the system.

Q. What is Multi-Factor Authentication?

A. Multi-factor authentication is an additional layer of security used to better protect our online banking site from unauthorized login attempts.

Q. What is a secure cookie?

A. A secure cookie is used to authenticate your computer when you sign on to online banking. This cookie allows the Secure Access Code to be bypassed. IT IS IMPORTANT YOU DOWNLOAD THE SECURE COOKIE TO A COMPUTER THAT ONLY YOU HAVE ACCESS TO. Do not allow this cookie on a public computer that other users will be accessing.

Q. What steps should I take to help ensure the security of my account information?

A. You should always keep your password and answers to your security questions to yourself and change your password at regular intervals. In addition, when you are done using the Online banking system, you should choose the "Sign-off" button and close down your browser.

Q. What if someone learns my user id or password?

A. You can change your password online whenever you choose. A username alone is not sufficient to gain access to the system. Your username may be disabled after several unsuccessful log-in attempts. If your username becomes disabled, please contact Harleysville Bank to request a new username and password.

Q. Can I view all my accounts using Online banking?

A. Yes. At your request we can setup all of your Harleysville Bank accounts for which you are an authorized signer to be viewed through the Online banking system.

Q. What is the difference between my "Current Balance" and my "Available Balance"?

A. Your "Current Balance" is the actual balance according to Harleysville Bank's records. Your "Available Balance" will not include deposits that are not yet available to you and may include amounts available to you through Bounce Protection.

Q. Can I transfer funds between accounts?

A. Yes. You can transfer funds between authorized checking, savings, money market, and line of credit accounts. You can also make your Harleysville Bank loan payment.

Q. When is my account information updated?

A. Your account balances will immediately reflect any Online banking transactions done during the current day.

Q. How can I print my account information?

A. You can either click the Printer icon within the desired Online Banking window or click "File" and then "Print" from the browser menu bar.

Q. What if Online Banking "goes down?" Will my payments be made, Will my transfers go through?

A. If Online Banking and all of our back up systems were to go down, you can be comfortable that any transaction for which you had already processed prior to the system going down will go through. If you were in the middle of a transaction and there is some question as to whether the system has received the request, you may feel free to contact the bank to ensure your transaction request has been accepted.

Q. Does Online Banking work with Quicken?

A. Yes. You can download your savings and checking information into Quicken. At this time loan account information is not able to be downloaded into Quicken.

Q. What if I have other questions?

A. If you have further questions, please e-mail us at [email protected] or call us at 215-256-8828.
Print this Page
Send to a Friend